Casual: Styling The Blue Oxford Shirt For Summer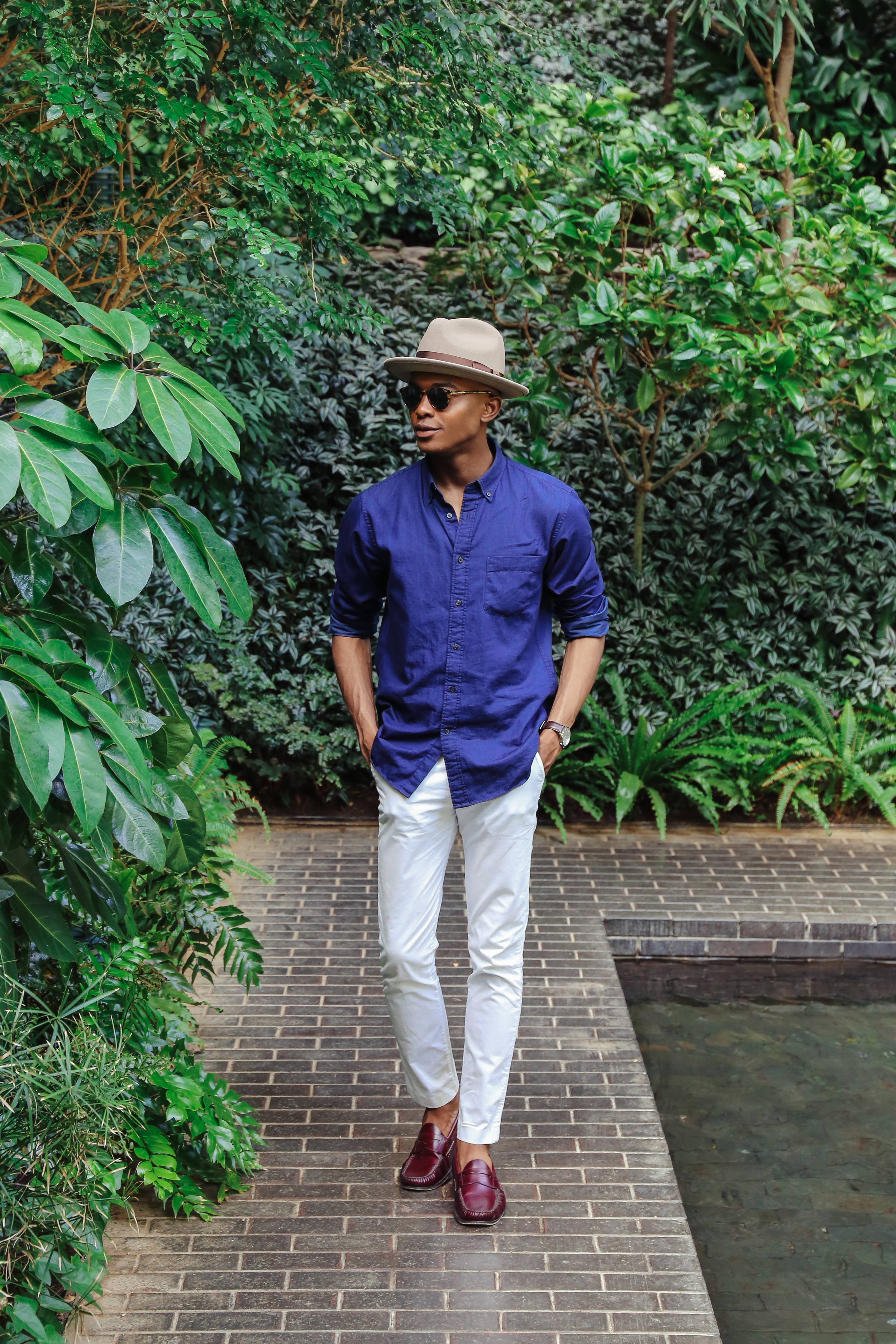 Words by, Igee Okafor
Photography by, Xavier Duah
Truth be told, when I buy oxford shirts for every season, I almost never settle if the shirt isn't blue or white. The reason stems from prioritizing chances of versatility, and relevance as it pertains to the cohesiveness of my wardrobe. Undoubtedly, blue is a classic color for oxford shirts, but when it comes to styling in the summer, when casual, comfort and breathability are top priority, those colors tend to come off a bit basic, boring, and repetitive.
If you're like me, you want to maintain your lovely blue shirts especially if blue is your favorite color, and you still want to balance being stylish even when casual is the look you're going for. You don't want to be overdressed, but you don't want to be too simple. The key to turning this around? Curating a color scheme that allows each clothing item to shine.
With this look, I started with the shirt as my base. White trousers are always a great idea. Nothing screams summertime more than whites. Seeing I had two variations in color (blue & white), I thought adding one more color would give a subtle color block effect. Nothing too bold or flamboyant. Just the right amount to exude self awareness, and the capability of curating a color scheme that was not too simplistic. Enter, penny loafers.
I try to always wear a wrist watch, and with this getup, I wanted to keep it as subtle as possible to avoid distraction from the color scheme I was already working with. The sunglasses, and the hat were incorporated mainly for practical reasons. Both pieces incorporating hues of colors I was working with, I deemed them fit.
When making these styling selections, it is important not to go overboard. Find two to three colors that compliment each other, and adorn the look with accessories that help emphasize the aura/reference of the look.
Dean Butcher Wool Felt Hat / Goorin Bros . Sunglasses / Warby Parker . Wrist Watch / MVMT . Oxford Shirt / Uniqlo . Trousers / H&M . Penny Loafers / Jack Erwin
Thank you for reading!
Igee Okafor